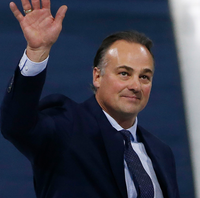 DALE HAWERCHUK - 1963-2020
HAWERCHUK STRONG - IN LOVING MEMORY
Cancer has had an impact on so many of our lives. On August 22nd 2019, Hockey Hall of Fame legend Dale Hawerchuk was diagnosed with an aggressive form of gastric cancer. Dale immediately began months of chemotherapy, a full gastrectomy, and endless doctors' appointments. After ringing the bell in April 2020 to symbolize the completion of his final round of chemotherapy, he began his recovery journey to regain strength and return to daily life. His first mission was to use his platform to launch an initiative that would raise awareness and give back to the healthcare community he and his family are so grateful for. Hawerchuk Strong was created and work began to achieve his goal.  
Sadly, Dale's cancer returned with a vengeance in July 2020 and he lost his hard fought battle on August 18, 2020 surrounded by his loved ones. The Hawerchuk Strong initiative is as important as ever, and those closest to Dale are committed to continuing his mission in his memory. Dale's fans who cheered him on for over 40 years can now show their support by wearing his brand or carrying his inspiration coin. Let's all continue giving back to help achieve the goals Dale envisioned.
Hawerchuk Strong Collection
Hawerchuk Gives Back
Dale Hawerchuk has a long and rich history of giving back through his Celebrity Golf Classic events. The Inaugural tournament held in 2002 at Hockley Valley Resort in Orangeville, Ontario was in support of a young girl in need of a bone lengthening operation. That year the Dale Hawerchuk Golf Classic raised over $40,000 to assist with this life changing opportunity. For the next 9 years we concentrated on growing the event and building relationships to create one of the best golf events in Ontario, while raising money for Headwaters Health Care Centres. We had great partners over the years who allowed us to begin raising money from day one. Because of incredible Canadian companies like Zellers and Bell Canada who supported us in the early years, and Scotiabank, who has been the proud Presenting Sponsor for the last 13 years, we have been able to take the event to the next level. In 2013, the tournament found a home in beautiful Muskoka at ClubLink's Rocky Crest Resort, and in 2010 we expanded the event to include a second tournament in Winnipeg at the Elmhurst Golf Club. Over this time Dale has supported so many causes, both large and small, from minor sports programs, to supporting local SPCA requests, to hospital equipment needs and refurbishing of patient rooms. Along the way, proceeds from his golf events have been used to purchase wheelchairs for families in need and provide scholarships for kids who have lost a parent. Deserving charities such as Easter Seals Ontario, Manitoba Kidney Foundation and the True North Youth Foundation (Winnipeg Jets Hockey Club's foundation), were all recipients of our fundraising. 
Dale has been an inspiring leader, teacher and builder all of his life, and his commitment to doing things for others is unparalleled. He believes it is his responsibility and that of his family to do whatever he can to give back, never expecting any acknowledgement. Let's follow his lead and continue to give back to the important causes closest to Dale.
Thank you for your support,
Andrew Jackson, Jackson Events | John Webster, Scotiabank
"Dale Hawerchuk put Winnipeg and the Jets on the map the day he arrived and the mutual love and respect he developed with our fans and the entire community is unlike any in the history of this franchise. But it would be a mistake to think that is all due to his Hall of Fame career. Rather, it is the result of his genuine humility and the grace by which he has always carried himself. Dale is simply one of the finest human beings that just also happened to be a superstar and the Winnipeg Jets could not be more proud to call him one of our own.

Mark Chipman | Owner & Chairman | Winnipeg Jets Hockey Club
"Dale Hawerchuk has made enormous contributions to his many communities with his time and talent and raised funds for numerous charities and organizations across Canada.  Over the past fifteen years Dale has hosted charitable events in Barrie , Hockley Valley , Muskoka and Winnipeg making major financial contributions to Easter Seals, Headwaters Health Care and the Winnipeg Jets Foundation among other. His unsurpassed commitment to giving back is one of his many legacies that endures. "

John Webster | President & CEO Scotiabank | Scotia Mortgage Corporation
Hawerchuk Strong Partners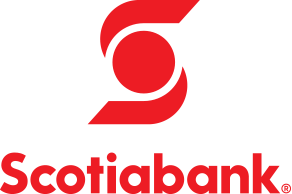 2021 Teammates
IN THE FALL OF 2021, HAWERCHUK STRONG HOSTED THE FIRST DALE HAWERCHUK CHARITY CLASSIC PRESENTED BY SCOTIABANK SINCE THE PASSING OF OUR BELOVED DALE. IN HIS MEMORY, WE CREATED THE "HAWERCHUK STRONG TEAMMATES". THE TEAMMATES ARE OUR GOLF TOURNAMENT PARTICIPANTS AND INDIVIDUALS THAT MAKE ONLINE DONATIONS WHO EVERY YEAR GO ABOVE AND BEYOND TO SUPPORT DALE AND HIS CAUSES. THE LIST OF OUR 2021 TEAMMATES IS BELOW. STAY TUNED FOR THIS YEARS TOURNAMENT AND FIND OUT HOW YOU CAN BECOME A TEAMMATE TOO! THANK YOU ALL FOR YOUR CONTINUED SUPPORT OF HAWERCHUK STRONG.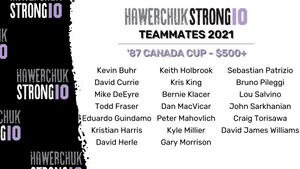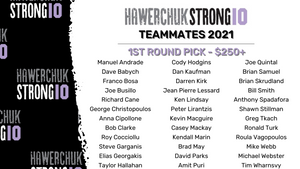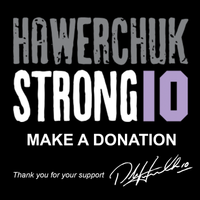 Make a #HawerchukStrong Donation
Select your donation amounts in increments of:
$20,  $25,   $50,   $100
$250,  $500,  $1,000
Add a Donation to your Cart